Coordinating center: Hepatology Unit and Clinical Pharmacology Services, "Hospital Universitario Virgen de la Victoria", School of Medicine, University of Malaga 
The Spanish Drug Induced Liver Injury Network is a consolidated collaborative network set up in 1994 that works in collaboration with the prestigious Society of Hepatology (Spanish Association for the Study of Liver Diseases) and the Spanish Society of Clinical Pharmacology. A network of different clinical units integrated by hepatologists and clinical pharmacologists collects data from suspected cases of drug-induced idyosincratic liver disease using a structural report forms. The operational structures of the Registry, data recording and case ascertainment have been described elsewhere.
To date, 57 Clinical Units spread all over Spain, covering 13 out of 17 regions, participate in the work.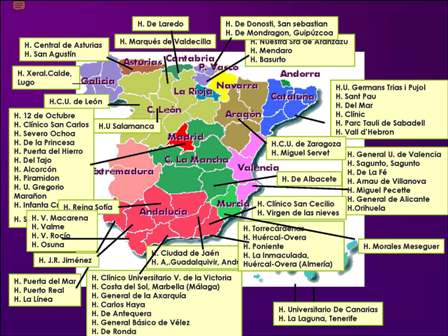 On behalf of the Spanish group for the Study of Drug-Induced Liver Disease
Participating clinical centres.